Will Marketing Ever Rule the World?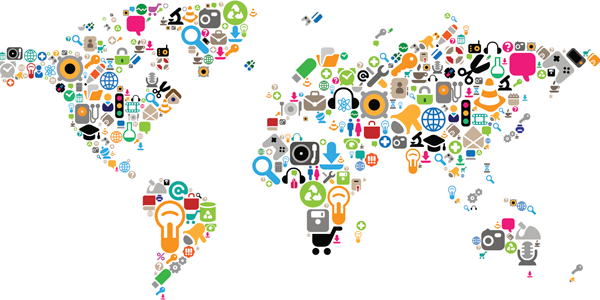 Will Marketing Ever Rule the World?
I genuinely believe this era is an era of Marketing. Not agree with me? Please read through this article to understand the perspective of an aspiring digital marketer.
Back in the 1990s, I still remember those days, when I used to go shopping for new clothes with my family; it was nothing less than an event or a carnival. There was no concept of "casual shopping" or "impulse buying" those days.
In those times there were, no malls (or very few malls for the affluent people in tier 1 cities like Mumbai, Delhi, Bangalore, etc.), no mobile, no internet, no DTH, no online shopping apps, no bumper sale, no social media, no attractive discount offers.
However, kids from my generation thoroughly enjoyed a pure shopping experience with the family. Our dream destination was a prominent local garment store near our home where we could purchase everything for every family member. The best part was every one used to be very happy at the end of the day.
Today, the time has changed drastically or should I say it has flipped upside-down, a complete 360-degree turn-around.
Nowadays you don't need any reason or a special occasion to buy anything new. The new millennial generation can't even wait for the discount offers on various products and to plan shopping accordingly.
You can purchase anything, anywhere, anytime. That too, on your fingertips, just a click away. You have a lot of shopping malls and departmental stores on almost every corner of the road. If you feel like going for a walk, you can visit any nearest mall at your convenience. Shopping has become so impulsive and spontaneous.
You have multiple product/brand choices and that too at various prices.
You can easily get your dream stuff customised as you wish.
You can even earn rewards like cash-back, additional discounts on MRP.
Though in our mind we know this is a trick, we all love to fall for it.
All this is nothing but the power of Marketing!
"Marketing is ruling the world today!"
Marketing strategies have evolved since the evolution of mankind. The concept of Marketing is as old as human cultural history. It has transformed with the changes that happened around us or more precisely, we have changed due to changes in the way marketing has evolved. Let's talk about various aspects of modern-day marketing that is ruling the world, yesterday, today, tomorrow & forever…
The Necessity for Marketing: The basic necessity of marketing for any seller is to be recognised or identified by the target audience. Customers must know the existence of your products. Marketing helps to achieve this purpose for you. Even if the seller is the only player in the market, the necessity for marketing is still needed to inform customers that there is a solution available to their needs.
Marketing becomes competitive when the number of sellers increases in the market. It gives customers the power "TO CHOOSE" from the available options. Hence sellers started talking about their respective products or services and started talking about it.
The best example that can be provided here is the packaged salt market in India. There was a time when entire India used to consume loose salt. In 1983, Tata Chemicals launched "Iodised Vacuum Evaporated Salt" which was initially marketed as a superior quality salt compared to unbranded loose salt and since then the entire country slowly and steadily started buying it.
Tata Chemicals created the all-new category of iodised salt.
After the success of Tata Salt, there were many iodised vacuum evaporated free-flowing salt brands that entered the Indian market, e.g. Annapurna, Captain Cook, i-shakti, Nirma Shudh and Aashirvaad, Himalaya, Saffola & many more.
All the above brands did a lot of marketing campaigns to gain market share. Today, the packaged iodised salt has almost wiped out the use of the loose salt market in India.
Maslow's Hierarchy of Needs & Marketing: I hope you are aware of Maslow's Hierarchy of Needs. We learned the various levels of human needs. As and when a need from a particular level (from downward to upward) is accomplished, humans tend to search for opportunities and try to meet the needs at the next level.
You will agree with me, that whenever we fulfil our one need, we desire something better. Let me give you one more example.
When I bought my first mobile phone in 2003, it was a basic phone. My objective of buying a mobile phone at that time was to communicate with my family and friends when I was out of home. It was fulfilled even with that particular basic phone.

But as and when days passed my needs or should I say "Expectations" kept rising and I kept on buying a new phone with some added features every year. Unfortunately, we cannot satisfy this need of ours and this will never hit the top level in the above pyramid.
It happened because all mobile manufacturers and network providers aggressively marketed their products and services. Young Indians wanted to flaunt their latest mobile phone in their circle to stay in modern trends. Mobile Industry has become the most revived and dynamic industry in terms of product development and its life cycle.
Now let's talk about our main topic "Marketing".
If "Need is the mother of invention",

Then "Marketing is the father of consumption".
Today we are consuming or using so many products & services only & only because they are marketed brilliantly the best example is "Smart Phones". Let's now start with basics, i. e. The fundamentals of marketing.
The Fundamentals of Marketing: Even though we say marketing has evolved for so many years, the fundamentals of marketing will always remain consistent i.e. Product, Price, Place, Promotion. Marketing is all about the 4Ps and Marketing is nothing without the 4 Ps.
Marketing strategies & techniques will always revolve around these 4 basic elements. The definition, dimensions, expectations from customers, the look & feel, the logistics, the current trends, the communication mediums, all these have changed in the past and will change in future as well. However, I would like to give you a different perspective.
In addition to these 4 Ps, I feel there are 4 more Ps that are required for effective marketing. They are, Planning, Persistence, Patience, Process. These 4 Ps are dynamic and has potential to improve as per the conditions.
Planning is crucial to make any campaign effective. The detailed planning makes the path more clear and helps achieve the objectives.
Persistence is needed in any marketing activity to create a long-lasting impact. You require constant reassessment and evaluation of your marketing activities.
Patience is very crucial in marketing. Rome is not built in a day, similarly, the effectiveness of the marketing plan will not be witnessed instantly.
The Process is something that helps to keep various activities in sync. It also gives the flexibility to make improvements in the plan if required.
Digital Marketing vs. Traditional Marketing: Today, Digital Marketing has emerged as one of the fastest-growing industries across the world. More and more brands are realising its importance and including Digital Marketing in their campaigns.
Many brands have started using traditional media to support their digital campaign. We can see the time is changing. We all like to be treated special, hence digital marketing has made a huge impact on the way brands communicate with their respective customers.
"Personalization" is the biggest USP of Digital Marketing. Brands can talk to their customers one-on-one and even the customers can share their feedback directly to the brands. This has bridged so many obstacles that brands used to face earlier while talking to their customers.
However, brands with a mass appeal still prefer traditional marketing due to the "Reach" aspect. Digital Marketing is nowhere near to traditional marketing when it's a matter of reach to their audience.
But in future, digital mediums will overcome this limitation too and "Customised Marketing" campaigns will be a reality where, brands may offer customised discounts, customised values, customised product features as per the customers' requirements.
Economics & Marketing: In simple words, Economics is a relative term that is determined by "Demand" & "Supply". Whereas, Marketing can actually drive "Demand" & "Supply" in the market. Both subjects are critical for any nation for its overall growth and development.
Nowadays, identifying a need for any product has been outdated. Today, marketers first develop a product and then create a need for it. Social Networking Sites are the best examples of this.
First Orkut, then Facebook, then Instagram, Twitter, LinkedIn, Pinterest, YouTube, WhatsApp, Snapchat, Tinder & so on… The list is endless. This is purely a marketing move that created revolutions across the globe. In the last 10 years, we have witnessed immense growth in the consumption of internet data and more than 53% of the entire world's population is using social networking sites. The need for these sites is created by the developers.
However, the rise of social networking sites has also helped to create a lot of employment opportunities, developing new segments and also gave birth to the brand new industry of Digital Marketing. No need to mention that, the new opportunities also helped to boost the economy.
Communication in Marketing: Communication skills in marketing campaigns are as crucial as potatoes in samosa. You cannot separate them both.
Marketing is all about sending messages to your target audience in a way they will understand and accept. If the message is unclear then customers may not able to recognise what you are trying to say.
Clarity in communication is essential in every stage of the marketing mix. Be it product name, the message in the advertising campaign, pricing, logistics arrangements and so on… the message should be clear & simple.
Communication skills create a perception in customers' minds about the brand. It can make a brand and can even break a brand. I would like to give you a classic example of affecting the brand image negatively.
Jyothi Laboratories Pvt. Ltd. launched a fabric detergent called "Henko" in the Indian market in the late 90s.

It was a decent product competing with other detergent brands like Surf, Nirma and doing fairly well in urban, semi-urban & rural markets across India. However, the product was miserably failed particularly in semi-urban and rural parts of Maharashtra. The company decided to take a sample survey to gather information about the customers' feedback. They observed an interesting insight about their failure.

The product name was "Henko" and in rural maharashtra it was pronouced as "He Nako" which literally means "Not this" in Marathi.

Whenever customers used to ask for any detergent in local general stores, the shopkeeper used to say "He Nako?" and customers used to reply, "Nako" (means NO in Marathi). That's why customers didn't show any interest in purchasing "Henko".

Later to overcome this issue, Comapny had to made a brand new commercial clarifying about the name and appointed Madhuri Dixit as a brand ambassador to connect with the customers in semi-urban and rural Maharashtra.

Such a small thing can affect the perception of your brand in the mind of the customers. Hence communication is crucial in every aspect of marketing.
All this is nothing but the power of Marketing!
Moral: Marketing is ruling the world today!
Hope now you must have learned the perspective of an aspiring digital marketer. If you like this article and even if you don't like this article it would be great if you let me know your feedback on this. You are most welcome to share your opinions and suggestions with me to improve this article. Please follow my page if you want to read more about such exciting topics.